Amid an ice storm, remnants of Veterans Stadium were sold and auctioned off as part of the Phillies Charities "Final Pieces" memorabilia auction and sale on February 6, 2004. The event promised to offer Philadelphia sports fans a unique opportunity to purchase one-of-a-kind items from the stadium. There were a range of both low and high ticket pieces available for sale and signing appearances from both current Phillies players, and some greats who played at the Vet. The highest profile items, however, were reserved for the auction portion of the day.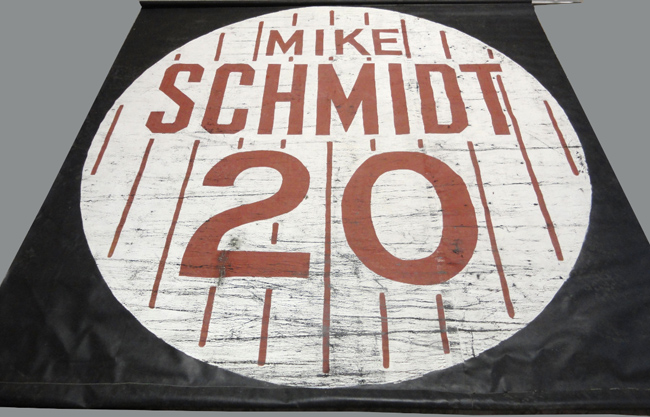 Mike Schmidt Retired Number Banner from Veterans Stadium
The pages of the auction preview booklet were filled with things like lockers from both the home and visitor locker rooms, game used equipment, Executive furniture and signs/flags from various parts of the the stadium. From time to time over the past few years a couple of the pieces from the auction have shown up in online auctions, often fetching much more than the sale price realized that winter day. This week auction item #206 from the Final Pieces preview booklet joins that list. "Mike Schmidt Retired Number 20 Banner" is now auction item #11 on
Hunt Auction
's (Exton, PA) current internet auction.
Description on Hunt Auction's site:

Mike Schmidt's retired number banner from Veterans Stadium (EX). 89"x91" vinyl banner that was displayed in Veterans Stadium. Banner reads "Mike Schmidt 20" in red against a white background with red pinstripes. Exhibits typical wear from being exposed to the weather: EX
These banner were an iconic part of Veterans Stadium. By the final season, the Schmidt banner was one of seven retired numbers hung against a black tarp above the outfield wall. Added to the collection on May 26, 1990 - the Schmidt banner would certainly be a nice addition to any Phillies fan's collection (if you can find a place big enough to hang it!). Bidding is currently at $316, and the auction bidding period ends 10 PM on Wednesday, September 14th.