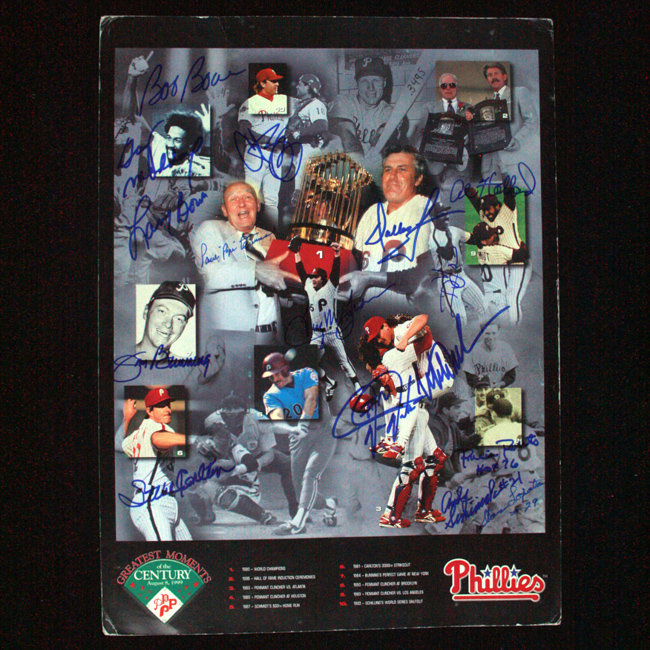 Some of the best collectibles were, like this week's spotlight item, stadium giveaways. As a young fan watching the Phillies during the 1980s - 1990s I always looked forward to the poster days. Typically the team would have one or two in their annual promotional lineup - highlighted by the "Pride of the Phillies" poster toward the end of the season. Each season produced an opportunity to cover another space on my bedroom wall with Dick Perez drawn images of Mike Schmidt and Steve Carlton - or to cloak my closet door with "Dr. Dirt and Mr. Clean". As an adult I have seen these posters as not only a way to decorate my Phillies Room, but also a medium to collect signatures of the guys I watched play as a kid.
This week's featured collectible is the Greatest Moments of the Century poster that was given to all fans attending the Phillies game on August 8th 1999. The poster is made of a heavier stock of paper and measures 11.5"x15.5". Depicted are 10 of the best moments in Phillies history (through 1999). The moments included are:
1980 World Series
1995 Hall of Fame Induction Ceremonies (Schmidt and Ashburn)
1993 Pennant Clincher vs. Atlanta
1980 Pennant Clincher vs. Houston
1987 Mike Schmidt's 500th Home Run
1983 Steve Carlton's 3000th Strikeout
1964 Jim Bunning's Perfect Game
1950 Pennant Clincher vs. Brooklyn
1983 Pennant Clincher vs. Los Angeles
1993 Curt Schilling's Game 5 World Series Shutout
I had never considered getting this signed, but saw an almost fully signed one listed in Hunt Auction's November internet auction and liked the idea. For the most part the people featured on the poster are still living. Notable exceptions would be Richie Ashburn, Robin Robers and Dick Sisler from the Whiz Kids and longtime GM/manager Paul "Pope" Owens who died in 2003. In the end I decided not to bid (and probably won't try to get mine signed). It sold for $96 - which is a real value considering how much it would cost to build now, and that it included both Owens and Roberts signatures.
If I was putting this poster together today I would probably drop out Schilling's Game 5 gem, and the NL Pennant winning game over the Dodgers in 1983 and replace them with the 2008 World Series win and Roy Halladay's NLDS no-hitter in 2010. Also, we would need to re-order things a little - and am I crazy or is it a crime that the Whiz Kids pennant clincher is #8? This was a momentous event, unthinkable at the time - the highlight of two Hall of Fame careers! In the 1999 version I think it would rank at least as the fifth best moment, maybe higher if you drop the 1995 HOF induction.