In the Collectible of the Week series I highlight both low, and high value pieces of Phillies memorabilia. We have spotlighted items like $20 game-day programs to game-used items that could bring a couple hundred dollars. This week's item is the most expensive collectible to date, and while I will never be able to purchase a player replica 1980 World Series trophy I found it an interesting topic and thought I would share...
Of course we are all familiar with the original trophies that are presented by the Commissioner and hoisted by members of the World Championship team each fall. And many of us have seen (one or both of) the trophies won by the Phillies over the years. These prizes are owned by the team and are (to my knowledge) never available to any single person. As you can imagine, there is a demand amongst the players to have their own "copy" of the original they worked so hard to win. To satisfy this demand, Texas based ring/trophy producer, Balfour has historically offered for sale miniature versions of the World Series trophy to players from the winning team. These copies are often referred to as "12-inch" or "Half-sized" trophies, and may be produced across many years, on-demand for the player. Because their production dates vary, materials and even engravings may be different from one to another.
Below are three different versions of a 12-inch, player replica 1980 World Series trophy. While each one varies a little from the other, two things can be agreed upon: they are awesome display pieces and they will cost you handsomely!
- Version #1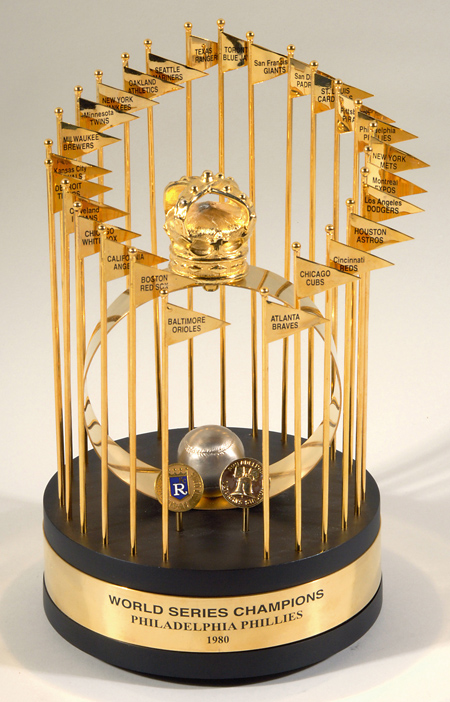 12" Player Replica '80
Version #1
Sale Date: Unknown
Sale Price: $4,750
Size: 12"
Features: "
brass pennants with team names around the perimeter of a large brass circle with a crown finial. Phillies and Royals World Series press pin facades adorn the center area with "World Series Champions Philadelphia Phillies 1980" in black lettering on the front." (Hunt Auctions description)
Comments: To me, this version best represents the original 1980 World Series trophy. It is not attributed to any one player, and the auction house comments do not note a production year.
- Version #2
12" Player Replica '80
Version #2
Sale Date: 4/2006
Sale Price: $11,488
Size: 12"
Features: "
The prize is arranged upon a 2-1/2"-tall, 7-1/4"-diameter wooden base, whose surrounding gold-colored band reads "
WORLD CHAMPIONS
/
Philadelphia Phillies
/
1980
." Atop the black base, a 5"-diameter gold-colored band has a silver-colored baseball at its base and a very detailed crown figure at the top. Standing prominently at the front of the display are press pin replicas representing the respective World Series combatants. Surrounding the base are 26 gold-colored flags that, in alphabetical order, bear the names of each Major League team; the banners gradually ascend in size from 5-1/2" to 9-1/2"." (Legendary Auctions description)
Comments: The key difference between Version #1 and #2 is the engraving. Version #1 states "World Series Champions" while Version #2 has "World Champions". Neither is considered incorrect, but is more a statement about when the trophies were produced. Since Version #1 has the same inscription as the "original" 1980 Phillies trophy, it may be reasonably assumed that it was produced closer to 1980 than Version #2 - but, who knows...
- 10th Year Anniversary version
12" Player Replica '80
10th Year Reunion
Sale Date: 7/2008
Sale Price: $3,000
Size: 12"
Features: "
This championship trophy (measuring approximately 12" in height and 7" in diameter) was issued in 1990 for the tenth reunion of the Phillies 1980 World Series victory and features 26 gold-colored pennants (each bearing the team name of a major league franchise and ascending in height from 6-1/8" to 9-3/8") positioned around the perimeter of a circular black wooden base...
The gold-colored band affixed around the base reads, "Phillies 10th Reunion – 1980 World Series Champs" in black lettering along with facsimile signatures of the players." (Huggins and Scott description)
Comments: This actual trophy was attributed to Steve Carlton. Because it was produced for a certain occasion (the 1980 team's 10th year anniversary), we know the exact age of the piece. It also contained a Balfour sticker on the bottom - something not included on either of the earlier versions. While not an "acutal" piece for piece replica of the original - this trophy is nice for several reasons: Price, it would look great on display and it can be tied back to a key player on the 1980 team.