Bidding on items in Hunt Auction's January online auction closes tomorrow, Wednesday January 18th at 10PM (EST). A "Phillies" keyword search of the lots produces 118 results. Here are three pieces of Phillies memorabilia I took note of:
Lot # 923 - Assorted Phillies Postseason Memorabilia
Description (from Hunt Auctions' site)
:
Lot of assorted Philadelphia Phillies playoffs & World Series related memorabilia, c.1976-2009 (VG-MT).
Current bid: $62
Comments: I really like going to an auction or yard sale and throwing a bunch of stuff in a box for deal making. A lot like this one is just that: many great items across all eras, some rare...and of course, a scrapbook thrown in for good measure.
Link to item: Assorted postseason memorabilia on Hunt Auctions
Update (1/19/12)
: I followed this lot through bidding on Wednesday night, throwing in a high bid (at one point). As I mentioned in the original post, this listing had a lot to offer, and I'm not surprised it garnered other Phillies collector's attention. At the end of the night, bidding closed at $266!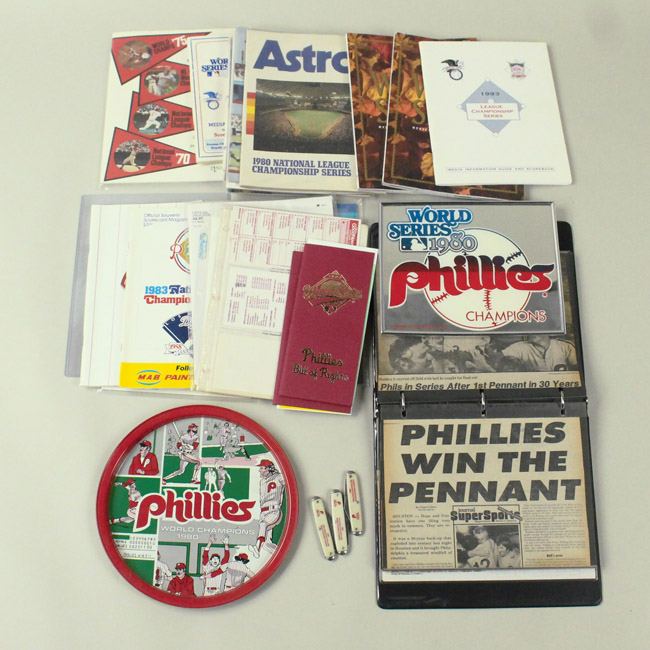 Assorted Phillies postseason memorabilia (via huntauctions.com)
Lot #5 - Game Used 2010 Phillies Home Jersey Worn by Roy Halladay
Description (from Hunt Auctions' site):
2010 Roy Halladay game-used and signed Philadelphia Phillies home jersey, Phillies COA (EX-EX/MT). Polyester button down jersey with "Phillies" across front, "HALLADAY" across back, "34" on back and left sleeve, and a "36" memorial patch on the right sleeve for Robin Roberts. Majestic size 50 and Cool Base tagging appear on the front bottom left. Proper "0063" pro code is on the interior wash tag.
Current Bid: $1,815
Comments: Wow! Great piece, complete with a COA from the Phillies. Jerseys like these make me realize there are some BIG TIME collectors out there. Rubber-necking scenario here...following this one to see how high those bids get!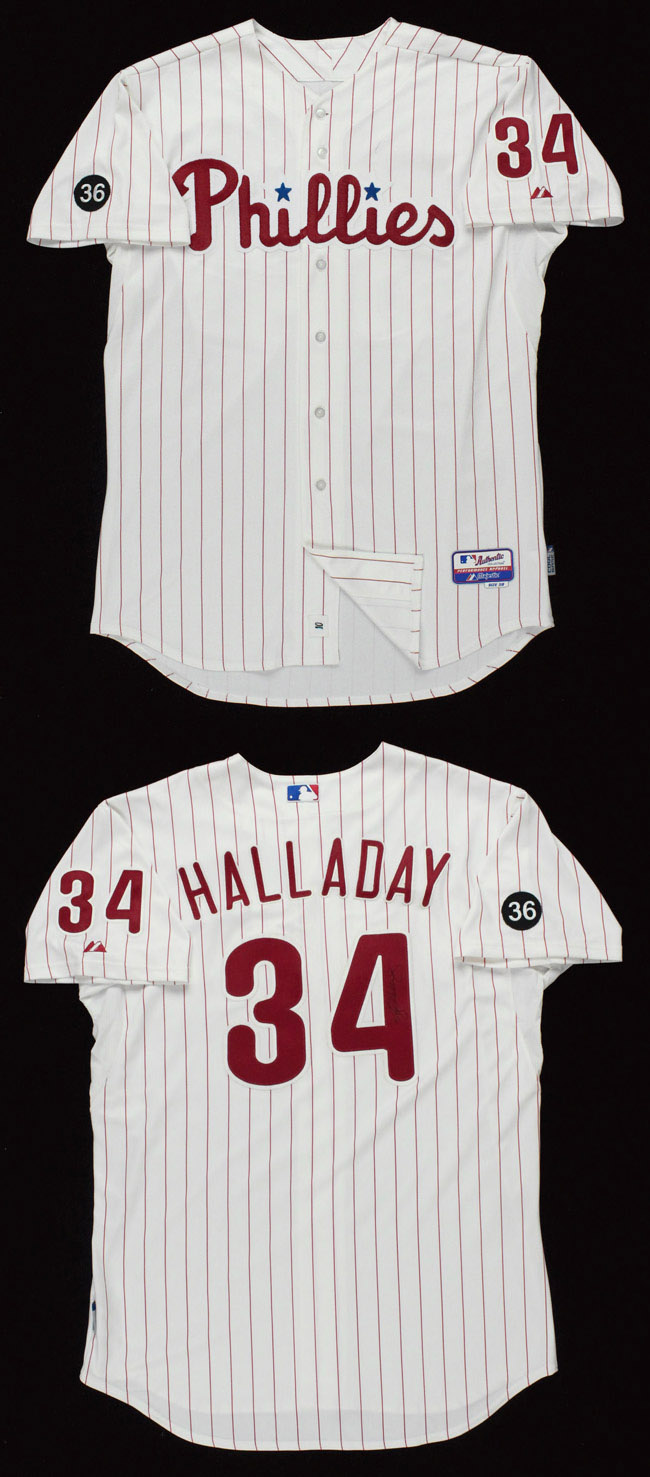 2010 G/U Roy Halladay Jersey (via huntauctions.com)
Lot # 976 - Assorted Phillies '50s-'60s era statues
Description (from Hunt Auctions' site)
:
Lot of (6) Philadelphia Phillies Robert Gould, Dairy Queen, and Transogram statues from 1955-1969 (EX-NM). Incl. (4) 1955 Robert Gould statues including Richie Ashburn (EX/MT), Smoky Burgess (EX/MT-NM), Gran Hamner (EX/MT-NM), and Curt Simmons (EX/MT-NM); 1956 Del Ennis Dairy Queen statue (EX); and 1969 Johnny Callison Transogram complete box with statue (EX-EX/MT). Range: EX-NM
Current Bid: $53
Comments: I don't know a whole lot about these statues, but have seen a few of them come and go in previous auctions. Common problem is missing pieces, and that doesn't seem to be a concern here. Also, how great is that Johnny Callison Transogram?!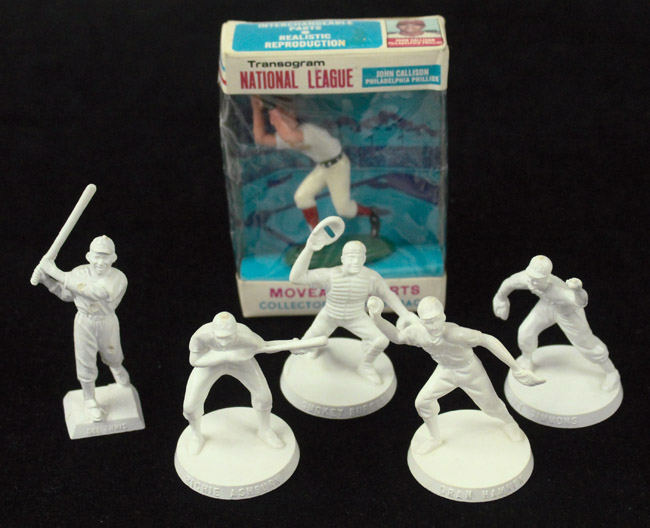 '50s-'60s Era Phillies Statues (via huntauctions.com)