A quick check-in on some of the Phillies memorabilia I have recently been following on my ebay watch list:
Program from first night game in Major League History
Auction end date: 25d remaining
Current bid: None - buy now for $399
Description: A Cincinnati Reds game scorecard from May 5, 1935 - the first night game in Major League history. The lineup card is noted with the event with type-written comment - "Lineup, 1st Night Game played by Cincinnati".
Comments: This scorecard is "out of my league" with a $400 price-tag - but, it is noteworthy in that it is one of those unique items that could be collected by a Phillies, Reds or Baseball collector.
Scorecard - 1st Major League Night Game
1977 Phillies License Plate (SGA)
Auction end date: 2/6/2012
Final bid: $39.99
Number of bids: 1 - Buy Now
Description: Philadelphia Phillies metal license plate measuring 11 3/4"x 6". Depicts former mascots, Phil and Phyllis.
Comments: Originally available as a SGA during the 1977 season, a plate in this condition - from this era easily attracts Phillies fans young and old. I am a big fan of the nostalgia in this item. It would look nice displayed in my Phillies room.
1977 Phillies SGA License Plate
Two Trevor May 2010 Bowman Prospects Cards
Auction end date: January 17, 2012
Final bid: $0.56
Number of bids - 3
Description: Two cards in mint, to near-mint condition. Card number BP36.
Comments: Ok, so these were cards on my watch list that I ended up winning. My goal was to get a card to send to Trevor this season - two for this price (and free shipping) was a great deal for me.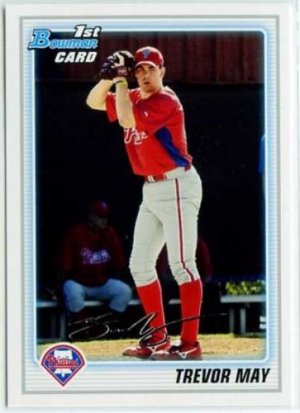 Trevor May 2010 Bowman