On October 6, 2010 Roy Halladay pitched a no-hitter against the Cincinnati Reds in his first career post-season start. That night the Phillies sold programs long after the final pitch had been thrown to fans eager to take home a souvenir of the occasion, and those enterprising ones who knew they could make a few bucks. The program cover featured a familiar scene: the Phillies' NL East clinching on-field celebration. Stories had it that the team exhausted their inventory, pulling boxes from every closet in the Park. They had to make an emergency re-order for the next night's game. By the next morning, copies of the program were on eBay for $30-50.
The Phillies created a second edition cover for Game 2 of the Series. The new program featured Halladay celebrating with catcher, Carlos Ruiz. I had tickets for the second game and was stunned to see the new cover at the newsstand. Having the two covers in circulation now definitively separated Game 1 (with the no-hitter) from Game 2. And with inventory supposedly "exhausted", the first program became a rare, must-have for Phillies collectors...and prices online went through the roof ($75-100).
With little (to no) fanfare, the Phillies recently made a "2010 NLDS Program Pack" available for sale
on their website
. The package includes both editions of the program (and a rally towel from the series) for $24.99. While the Phillies deserve credit for making this desirable edition available to the public, as a collector I prefer to keep items like this "rare"- the prices will now be diluted on the secondary market and it becomes (in my mind) a lot more common. Also, there is no evidence of the program actually being in existence for the event. Part of the fun of collecting programs is the thought that it was there when things happened, which is why I prefer scored over non-scored. With that said, I still think this is a fair price, especially if you are a "program collector" and need the no-hitter version.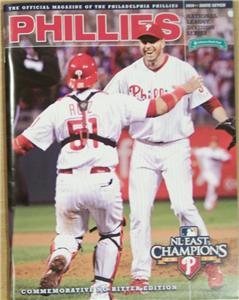 2010 NLDS Program: Second Edition (Game 2)