It has been at least a couple of weeks since I mentioned the 1964 Phillies, so figured you might be due for a new post on them. Despite the great September collapse, there were several memorable moments during that season and it bore many pieces of Phillies memorabilia: A phantom World Series program, phantom World Series tickets, Johnny Callison on the cover of SI, Jim Bunning's perfect game program/ticket and those great Pointer pictures distributed by the Inquirer (to name a few). At the top of the heap, the cream of the crop though is the 1964 Press Guide.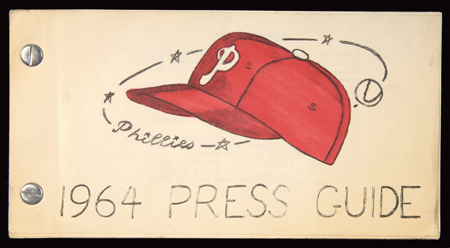 1964 Phillies Press Guide (via HuntAuctions.com)
Prior to 1964 the Phillies did not publish official statistical guides for their media partners. At that time they were the only Major League team to not have a "Press Guide" detailing their roster and playing schedule. After a request to have one printed for the upcoming 1964 season was denied by Phillies management (too expensive they said), media-guru, Larry Shenk rolled up his sleeves and manually assembled 300 in his own living room. His wife threw in an assist by hand-coloring each cover.
The Philadelphia Athletics Historical Society has a great piece on the Press Guide (
Link to the full article
). It details the process the Shenk's undertook in creating the booklets:
"Shenk typed by hand a master stencil for each page of the guide, fitted the stencils one at a time around the mimeograph machine's inked drum and produced multiple duplicate copies of each page. A laborious task was made even more onerous by the fact that two pages of the guide could be typed onto a single stencil. This was economical, but every copy mimeographed from each stencil had to be cut in half by hand to separate the two pages. With the mimeographed pages of the guide printed and cut, Shenk now faced the grueling task of collating and binding all of the pages for each of the guides."
Stats on the Press Guide
:
Number produced: 300
Number still existing: ?? - It has been estimated at only a dozen or more have survived
Number of pages: 58
Size: 4 1/8"x 8 1/2"
Value: I found two examples of these sold at auction: