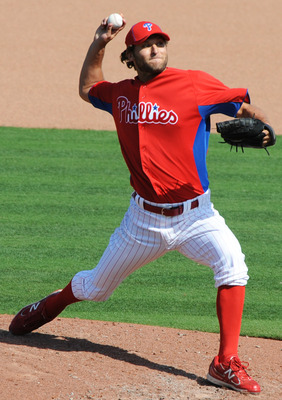 For Sale: This hat, and these shoes!
Beyond the Dugout is a site that came to my attention as a result of a tweet sent by Phillies prospect, Michael Schwimer yesterday:
for those of you asking for some of my game used stuff from either UVA or some Phillies stuff please contact
@
beyondthedugout
Needless to say if I see game-used and Phillies in a tweet, I am checking out the site. I took a little time to browse the site, and while a lot of the product in inventory is related to minor league prospects there is also a pretty good roster of solid Major Leaguers. Among the Major League group are familiar names like Drew Stubbs, Carlos Gonzalez and Elvis Andrus. Of particular interest to me were the collections for Phillies P, Michael Schwimer and A's Outfielder/former Phillies minor leaguer, Michael Taylor. There is a wide selection of items for both players. Both have game used jerseys, cleats and hats available. Schwimer's equipment, which includes some collegiate items from his days at UVA, has not been priced. But you can make an offer on any item by emailing Beyond the Dugout at: orders@beyondthedugout.net.
Beyond the Dugout touts themselves as an outlet for players to unload some of the unwanted equipment from prior seasons, while making some extra money and connecting with their fans in a unique way. From what I have seen, and through my personal interactions with them over the past two days - this seems to be a professional operation. Check it out and place an order on some Phillies game used gear.
Main Site:
Beyond the Dugout
Direct to the M.S. Goods:
Michael Schwimer Collection
Direct to the M.T. Goods:
Michael Taylor Collection