The monthly internet/phone auction run by Hunt Auctions regularly features Phillies-themed lots. And every couple months they pull out some really cool, rare items. Marking the auction house's 20th Anniversary, the March Auction was one of those. Here are two of the more unique Phillies lots from my watch list that sold on Wednesday:
Robin Roberts Presentation Piece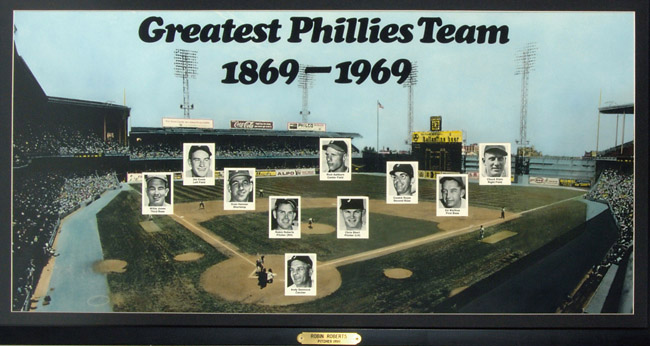 Robin Roberts Presentational Piece (via Hunt Auctions)
Description: A 18"x35" "Greatest Phillies" presentational piece belonging to the late Hall of Famer, Robin Roberts. Vignette features "greatest" players for each of the eight regular fielding positions, and one right-handed pitcher (Roberts) and one left-handed pitcher. COA from Roberts family.
Final Bid: $322
Comments:
During voting that took place between April-May 1969 Roberts was not only voted as the team's all-time best right-hander, but also their best all-time player. The selection of the "Greatest Phillies" team was part of a larger promotion run by the Baseball Writers Association of America to celebrate 100 years of Major League Baseball - with the best team of MLB's first century announced at the 1969 All-Star Game.
I think this is a unique piece, with a great story. The fact that it was owned by Roberts, who was ranked as the "best" Phillie, makes it even better. The final bid price seems like a steal.
Veterans Stadium Gate/Ramp Sign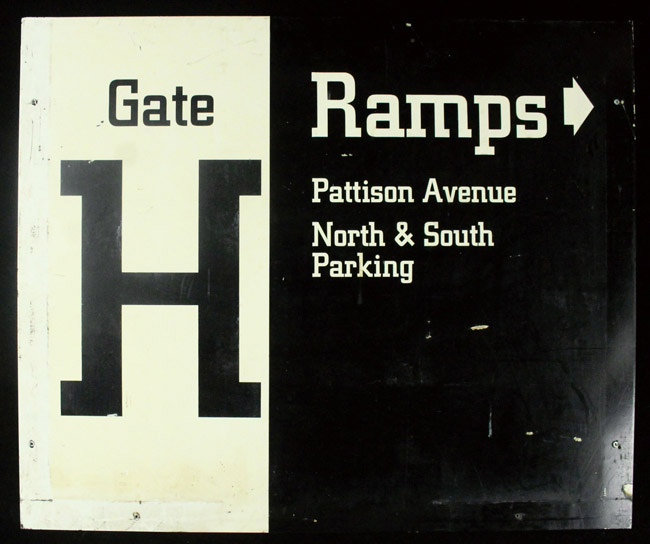 Veterans Stadium Ramp Sign (via Hunt Auctions)
Description: A 30"x36"metal gate/ramp sign from the defunct Philadelphia Veterans Stadium.
Final Bid: $221
Comments:
The sign was one of several Vet pieces up for bid this month. If you regularly read this blog you know I have an affinity for the Vet, and own a couple "relics" myself. I bought a "You Are Here" metal sign with a stadium graphic at the Final Innings Sale in December '03 - and for that reason was interested to see how bidding ended on this lot. This style sign is a little more available, and I have seen several sell (in this same range) over the past few years. From experience, these metal signs are extremely heavy - I would not want to see what the shipping costs were for this one.