In light of today's announcement that Pat Burrell will retire as a Phillie I was once again forced to reflect on his time with the team. A huge part of the success (and failures) of the teams from 2000-2008, his imprint on the city is here to stay. Here are some of my favorite Pat Burrell cards:
2001 Topps - #144
Comments: What a classic shot of the guy who lit up the Phillies lineup during the early 2000's. Bonus points for the inclusion of a Topps All-Star Rookie trophy cup.
Pat Burrell - '01 Topps
1999 Topps Traded - #T44
Comments: Sentimental favorite for me. I wasn't collecting cards (at all) in 1999 - but, was definitely excited about the prospects of Burrell helping the big club sooner than later. That excitement drove me to pick up this card at a flea market sometime around his MLB debut in 2000.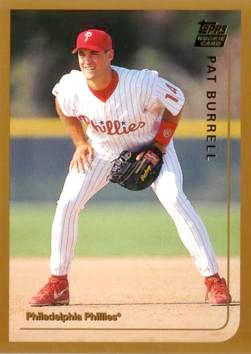 Pat Burrell - '99 Topps Traded
2003 Upper Deck Leading Swatches - #LS-PB
Comments: Cool, two-color, game used jersey card.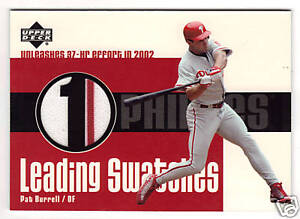 Pat Burrell - '03 Upper Deck GU Jersey
2001 Topps Gallery - #13
Comments: Really liked these cards...and look - The Vet!
Pat Burrell - '01 Topps Gallery