One of the most difficult things for an autograph collector to do is detect the authenticity of an autograph from players who's signature style changes with time. In Phillies history there are plenty examples of just these types of guys: Mike Schmidt, Del Ennis and Pat Burrell, to name a few.
Burrell (finally) retired as a Phillies on May 19th. Among the festivities were his first two local signing appearances (one "private" for Hall of Fame section ticket holders, one public at Granite Run Mall) since the 2008 World Series. Looking at pictures online after the signings I was struck by how his autograph had seemed to change again. It was now fully legible, a far cry from his early autographed insert cards and a little better than 2004-2007. I thought it might be interesting to take a look back at some certified examples and track the changes...
1999 - 2000
:
Comments - The signature during these years was way too small, and without his picture on the card it would be really difficult to tell who signed.
Pat Burrell, 1999 UD Inkcredible
Pat Burrell, 2000 SP Authentic Autographs
2004 - 2007
:
Comments - Finally acknowledging he has a first name, in the mid-'00s we see Burrell's signature starting to mature. At this point he is now signing both initials, though he is only fully writing out his last name.
Pat Burrell, 2004 SP
Significant Numbers
Pat Burrell
signed Riddell Mini-helmet ('07)
2008 - 2012
:
Comments - The World Series signings in late '08 seem to be the first time he is making an effort to sign his full name. It should be noted the team signed balls from this season still have a first initial instead of the full "Pat". Based on the samples distributed on the web over the weekend, this seems to be pretty close to his current (see '08/'12 examples below).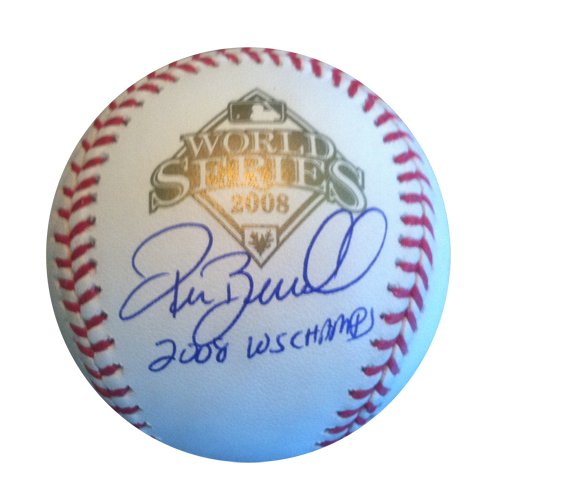 Pat Burrell signed
'08 World Series ball
Pat Burrell signed '08 WS ball (via @PhilaJen)
Consistencies -
Shape of the uppercase "B" in his last name
Overlap in the "LL"s in the last name
Inconsistencies -
First name. Non-existent in early examples, now abbreviated on team signed items or spelled out "fully" on single-signed.
Shape of the uppercase "P" in his first name (when present)