The Hunt Auctions, September Internet auction ends on Wednesday (September 5th) night. I have sat out of the action over the last several months, but feel like the time might be right to add a new piece to the collection. There are many lots related to the Phillies this month, but the highlight has to be the inclusion of items belonging to Hall of Fame broadcaster, Harry Kalas.
This is not the first time Kalas "personal" items have reached the auction block, but it may be the largest collection to date to go up at one time. In all, 24 lots are being billed as "The Harry Kalas Collection". Some very personal, others are just some pieces of memorabilia owned by the late announcer.
Lot # 79
- 2006 Working Notebook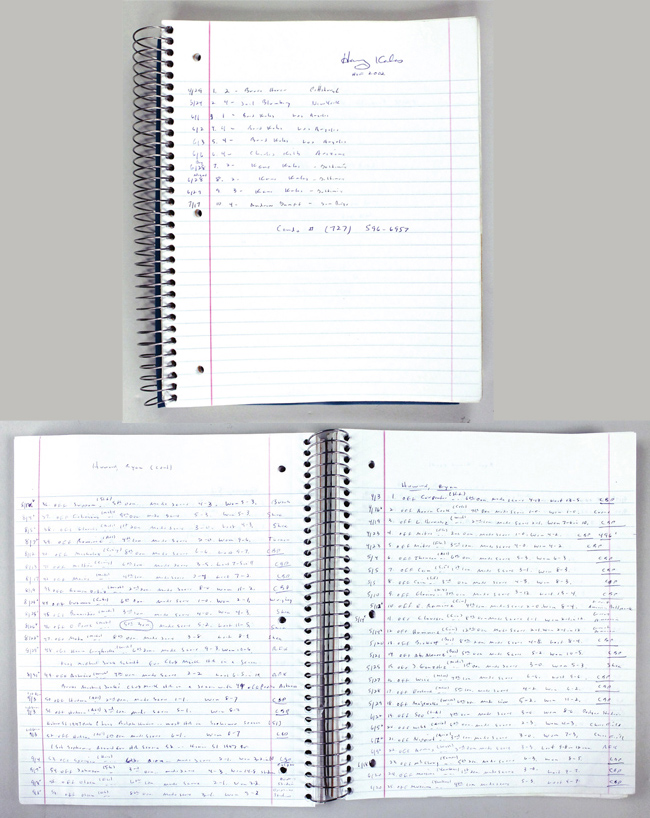 Harry Kalas Notebook
(via huntauctions.com)
Cool notebook used by Harry during the 2006 season. Always want to have something that is personally tied to the athlete (or announcer, in this case) and the game. Bidding on the book is currently at $220, with an estimated ending bid between $500-$1000.
Update (8/6):
Surprisingly, bids for the notebooks never approached the pre-auction estimates. Final bid amount for them was $348. Cool items for collectors of Harry or the Phillies - only problem I have with them is that it might be hard to display.
Lot #81
- Harry Kalas First Pitch Tie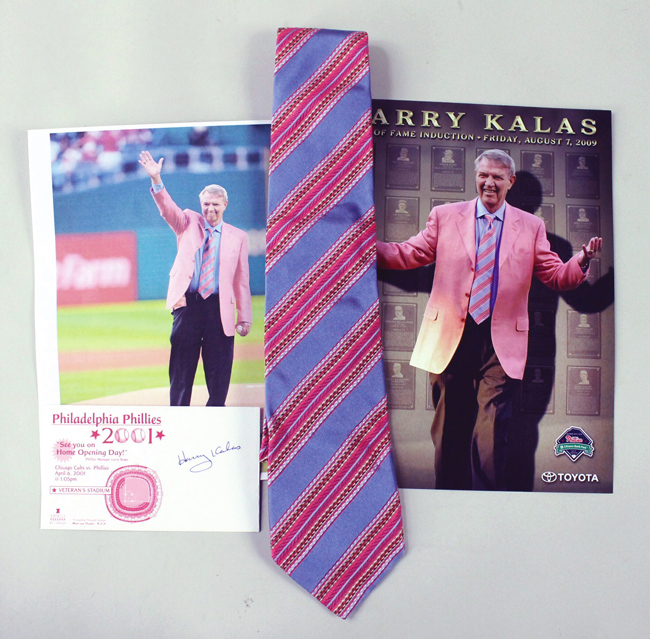 Harry Kalas Tie
(via huntauctions.com)
I think this was from the 2008 NLDS first pitch (let me know if you can confirm). Awesome piece to display with the Wall of Fame card. Bidding on the tie might get out of hand. With three days of bidding left, it is already within the bidding estimate of $150-300 (at $165).

Update (8/6): I received a few comments that the first pitch pictures may have been from the April 2009 ring ceremony game. Either event obviously makes this tie a special piece. Having the photographic provenance makes it special and will set up the owner with a great display opportunity. Final bid was $344 (over the pre-auction estimate).
Update (8/6):
I bid on two lots in this month's auction - a set of World Series press pins (that included two from the 1993 Series) and a pair of cleats worn by former Phillies outfielder, Wally Post during his time in Philly.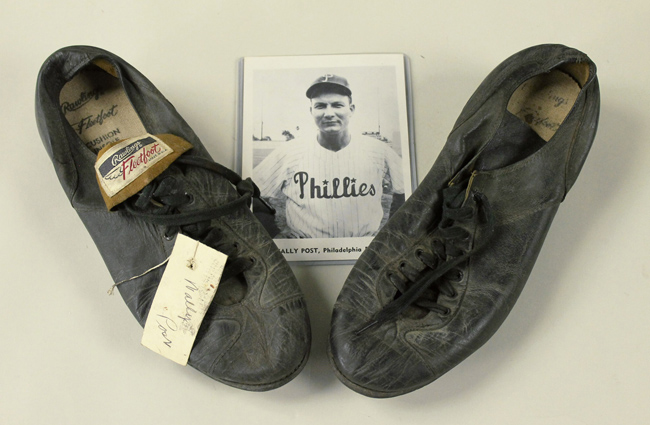 Post cleats (via huntauctions.com)
Comments: I have some pieces in my collection from the 1950's - mostly related to the 1950 Whiz Kids. I marked this lot in my auction preview guide the day it came. The cleats would be a great addition to any Phillies collection - especially since they have been associated with Post's time with the team. I bid up to $115 - it ended at $124. No regrets on not winning - got to set to the limits you have or risk overbidding.

1993 World Series Press Pins (via huntauctions.com)
Comments: Everyone knows I collect the 1993 NL Champions and to date, I do not have a press pin from the World Series. I liked this lot because it included both the Philadelphia and Toronto pins and would help me complete the set in one purchase. Again, tried to measure the true value for the set, and avoid overpaying (very easy to do in an online auction). My top bid of $65 was not enough - they sold for a few dollars more - $73.