Gregg Jefferies is probably remembered as a number of things: a can't miss prospect with the Mets during the late 1980's, a double's machine and of course, a Phillie from 1995-1998. There are few memorable moments for either Jefferies or the entire Phillies organization during his tenure. He played fairly well with a truly terrible team, but never fully met the expectations that were placed on him as a minor league prospect (or high paid free-agent). Despite the lackluster results, Jefferies was always someone I enjoyed "watch hit". Here are a few of my favorite Gregg Jefferies cards:
1996 Pinnacle Aficionado #89
Comments: The 1990's birthed many new card products. Pinnacle Aficionado was a relatively small set (200 cards) with interesting card images. I like this card because of the overall design - a sepia tone batting image overlapped with a black and white profile picture.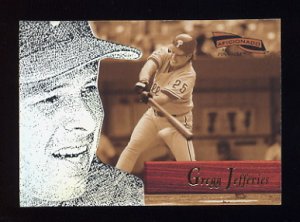 Gregg Jefferies -
1996 Pinnacle Aficionado
1998 Fleer Tradition Vintage # 113
Comments: I mentioned my appreciation for "the Jefferies swing", and this card is a great example. Bonus points for great card design.
Note: Check out more on this set from
14K Phillies card (2/12/12)
Gregg Jefferies
1998 Fleer Vintage
1996 Donruss Diamond Kings #17

Comments: Here is one from my wish-list. I did not steadily collect cards for a long period, and have a lot of holes in the late 1990's. I am a big fan of Dick Perez's work and would like to add this Diamond Kings card sometime in the future.
Gregg Jefferies
1996 Diamond Kings