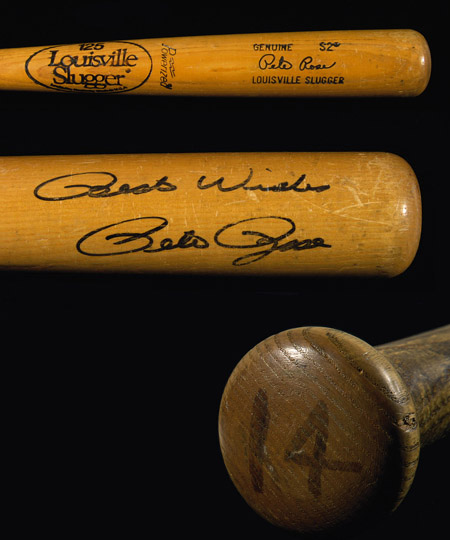 This week's item was found by browsing through closed online auctions managed by Hunt Auctions in Philadelphia. It is a Pete Rose game used H&B Louisville Slugger, circa 1980-1983. There are a couple reasons I decided to write about this item - first, it provides an example from which to talk a little bit about one of the hardest things to do in the memorabilia market - authenticating and dating a game-used bat (Note: There should be no concerns with authenticating items from Hunt Auctions - they are a reputable auction house), and second - what a great deal it was.
A game used bat is just that - a professional model bat that was used by a player during a Major League Game. Game used bats are created to a specific players requirements and are generally identified by a stamp of the player's signature, the name stamped in bold black letters or by a uniform number written on the handle. One look at this item and you notice the "Pete Rose" signature on the barrel, and as the description states - "Vintage "14" is written in black marker on the knob end..."

Next you should consider the model specific clues that are available through the photos. Hillerich and Bradsby (H&B) Louisville Slugger bats were and are a very popular choice of Major League players. They also are one of the easiest to date. First look to the model number...
Pre-1943 - Bats did not contain a model number

1943 - 1975 - The model number was stamped on the bat knob

1976 to present - The model number is found on the barrel above the player's name
You will also want to take note to the model number itself - it should be a letter followed by three or fewer numbers. In the case of this bat, we can see that the model number "S2" is stamped on the bat barrel above Pete's signature. That tells us it is a 1976 or later professional model bat. During this examination, let's also look at the trademark. H&B began branding the number "125" below the slogan "Louisville Slugger" in 1918. If the bat you are researching has any number other than "125" in this area - it should be considered a store model.
Lastly, consider the condition of the bat itself. Is it cracked? Does it have a lot of game use evident? The auction description states the bat "shows evident use including ball marks, stitching impressions, rack marks, and pin tar residue on the handle"...

This sounds perfect! The Hit-King probably knocked a few of his historic hits with this piece of lumber. Historically, un-cracked, game used bats have been much harder to obtain than the cracked variety. While both certainly have value in today's marketplace, the un-cracked are much more desirable; in fact, the severity of a crack in a bat is a large determinant of how it will be priced.
I was really struck with how this bat - which received a pre-auction estimate sale price between $1000-1500 - sold for $300. You can go onto ebay, or other popular sites and find bats of much less important players for two, three times this price. Of course, "value" is only really what a person will pay for something - which will vary from person to person. I haven't seen anyone bid on that $2500 Chase Utley used bat yet, but someone, someday might think it is worth that amount. If anything, it re-enforces the lesson that as a collector, you cannot rely solely on one source when adding to your collection. There are a lot of online auctions run by outfits like Hunt's, check them out, have fun and dream that you could find a nugget like this!